News & Announcements
Haley Kirk on 11/17/2017

Posted on 09/29/2017

Posted on 09/22/2017
Welcome to our website!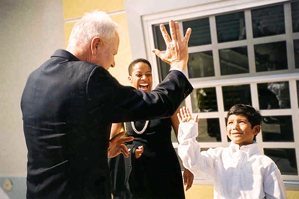 Please be advised the Riordan Foundation is undergoing a transition and updates to our grant initiatives will be available as soon as possible. We are not accepting new funding requests until February 2018. For more information, please refer to the 'Transition Announcement Memo' located under 'News & Publications', 'Newsroom'.
The Riordan Foundation's mission is to provide students, especially those in low-income communities, with access to a high-quality education that will prepare them to compete successfully in the 21st Century. We invest in four categories of education reform:  classroom innovation, literacy, leadership development, and community programs.  Please explore the menus above to learn more about what we do, our current grant opportunities and further resources for educators.