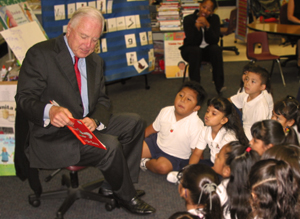 Grant Initiatives
Our grant initiatives focus on bringing critical technological and literacy-building resources into Los Angeles classrooms. The majority of our giving focuses on direct contributions to schools that have applied to our flagship programs: the Interactive Whiteboard Grant, Computers in the Classroom, the Recreational Reading Mini-Grant and a new initiative focusing on furthering the professional development of previous grantees.
While we also proudly support a number of nonprofit organizations that work to improve the quality of life in Los Angeles, very few proposals are approved without a prior invitation. Funding priority is given to technology, school choice and leadership development programs.
We invite you to learn more about our programs by exploring the links provided on the left.