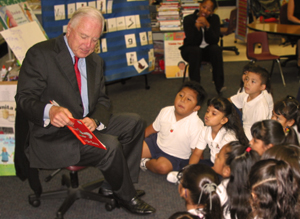 Grant Initiatives
Please be advised the Riordan Foundation is undergoing a transition and updates to our grant initiatives will be available as soon as possible. We are not accepting new funding requests until February 2018.
Our grant initiatives focus on bringing critical resources into Los Angeles classrooms. The majority of our giving focuses on direct contributions to schools that have applied to our flagship programs: the Instructional Innovation Grant and the Recreational Reading Mini-Grant.
While we also proudly support a number of nonprofit organizations that work to improve the quality of life in Los Angeles, very few proposals are approved without a prior invitation. Funding priority is given to instructional innovation, school choice, and leadership development programs.