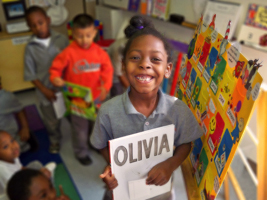 Recreational Reading Mini-Grant
As our longest running program, the Recreational Reading Mini-Grant (RRMG) has been providing books to deserving classrooms since 1993. With the help of our bookselling partners, Barnes & Noble, Perma-Bound, and First Book, eligible PreK-5 teachers may create a wish list of titles up to $1,000 for their classroom libraries. These books must be available for students to take home and share with their families, often benefiting younger siblings who also have limited access to reading material.
Even after providing over 200,000 books to Los Angeles schools, the need for this initiative has continued to grow; funding for school libraries is shrinking, public libraries are limiting their hours, and start-up charter schools are unable to invest in proper library facilities and staff. The situation becomes even more critical as studies now show that the number of books in the home is as good an indicator of educational success as parents' education level. Unfortunately, we cannot come close to meeting this need with our limited resources, and thus have to enact strict eligibility restrictions.
For more information, please see the links below: