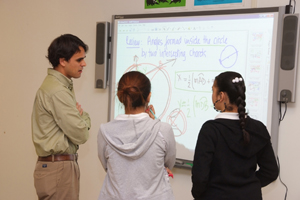 Interactive Whiteboard Grant
Launched in 2008 as The SMART Classroom Technology Grant, the Interactive Whiteboard Program equips classrooms with state-of-the-art, interactive technology. Schools may apply for interactive whiteboards for their classrooms and choose from a number of accessories including individual student response clickers and wireless slates. These tools help to engage a wide range of visual, audio, and tactile kinesthetic learners while ensuring that access to technology is an integral part of daily lessons.
In order to guarantee that grantees are motivated to use the equipment to its fullest capabilities, we require winning schools to contribute 50% of the cost of their chosen equipment configurations. We believe this joint investment produces better results for students and creates a valued relationship between the foundation and our grantee institutions.
Although we know interactive technology can vastly improve the way educational material is presented and absorbed, without the proper individual motivation, ongoing professional development and an extensive support system, the results of its use can be underwhelming. Therefore, due to the importance of investing in schools with the right personnel, structure and leadership, the Interactive Whiteboard Program will henceforth be by invitation only. Unsolicited applications for this program will no longer be accepted.
For more information, please see below: