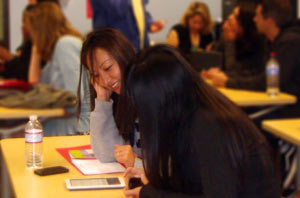 Professional Development
In addition to the professional development events that The Riordan Foundation hosts, we look out for opportunities hosted by other organizations that may be of interest to our network.
Attending any of these events? Let us know how it goes!
"The Five Mistakes Teachers Make When Teaching Close Reading"

The Close Reading Summit is EBTDN's premier professional development event. The goal of the Close Reading Summit is to inspire our attendees to build and continue to strengthen their teaching practices in the Common Core State Standards.

Included in your summit's registration is a special luncheon where attendees will have the time to network and browse classroom materials to support close reading.

Embassy Suites by Hilton
Los Angeles Downey
8425 Firestone Blvd
Downey, CA 90241

*$335 per participant
**Follow the link to register

These courses are approved for educators within the state of California. Earn Salary Points, Clock Hours or Graduate Credits towards your State License Renewal, Salary Advancement or Continuing Education needs.

*Follow the link to see list of courses

The premise behind the flipped classroom is to create an environment where the lecture and homework aspects of a course are reversed. Today's student, who is more tech savvy than ever before, is equipped to access content at home, replacing the traditional in-class lecture. This then allows for class time to be spent applying concepts and completing guided practice activity with an increased opportunity for student questioning. Flipped lessons provide for more active learning opportunities with students taking more responsibility reaching learning objectives. This course will analyze the theories and research supporting flipped lessons, as well as introduce educators to online tools and resources to create a successful and meaningful flipped experience. Participants will explore and utilize many free resources including TED TALKS, Khan Academy and the NY Times.

*$185 fee
**1.00 Salary Points through LAUSD/ULTA Salary Point Committee
*** Follow link for more information

We focus on access and equity for all students, with English learners center stage. And we define English learners broadly: newcomers to the United States, long-term English learners, speakers of African American English and indigenous languages. Rooted in a social justice stance and aligned with the Common Core State Standards, our conference poses questions and sheds light on the joys and challenges of teaching and learning in urban classrooms.

Our theme this year is "Getting From Here to There: Matters of Race, Language and Social Justice." The "getting" necessitates action, a journey enhanced when clarity, calm and generosity fill the backdrop.

Our keynote speaker, H. Samy Alim, will set the stage by focusing on the linguistic climate in our country and in our schools. Then our K-university colleagues will engage us in hands-on workshops in all disciplines, demonstrating successful lessons and teaching practices.

*fee $90 / Early Bird fee $75 until October 7th
Conference fee includes parking, continental breakfast and lunch.
UCLA, Moore Hall

This foundational professional development is specially designed to support site administrators, teachers, district and agency personnel and staff developers who convene and manage work teams, site councils, shared decision making groups and faculty committees.

Participants will develop:
An increased capacity to initiate, develop and sustain high functioning groups
An expanded repertoire of practical facilitation tools
Skills to move groups beyond consensus to common focus
Ways to value and use dissension, argument and conflict
Strategies for keeping group members on track, on topic, energized and resourceful
Participants will receive a certificate of completion at the end of the four days.

November 29-30, 2016
January 19-20, 2017
8:00-3:00 Daily

Centinela Valley Union High School District Office
14901 South Inglewood Avenue
Lawndale, CA 90260

*$365 per person. A light breakfast and materials are included in the cost.
**An additional fee will be charged to make-up missed days.
***All refunds will be charged a 15% administrative fee. NO REFUND will be issued five business days prior to the start of the Seminar.