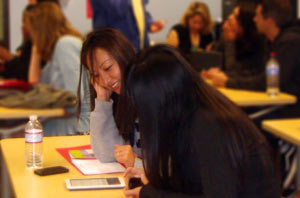 Professional Development
Since educational technology is only as effective as the teacher teaching with it, we encourage continuous and ongoing professional development in conjunction with our basic hardware grants. To that end, we will continue to update this section of the website with upcoming opportunities for technology training in the Los Angeles area, including our own Technology Conference every November.
Attending any of these events? Let us know how it goes!
Are you a Interactive Whiteboard or Computers in the Classroom winner? Click here to submit your professional development hours.
LACOE: The Web 2.0 Tools for Educators strand will focus on web based tools to enhance teaching. Discover the power of the web and use subscription free, web based tools in your own classroom. There are hundreds of web based tools that are designed for creating multimedia, writing, editing movies, developing oral language, playing music, critical thinking and more. The tools address a variety of content areas that can be used to enhance your teaching and support EL learners.

Fee: $45

The academy is a set of easy-paced, no pressure classes, over four days, where the participants learn programs that they could use with their students, or help them be more productive in their classroom.

Level 1 is for teachers who need to learn the basics of the computer, or have had limited exposure to the basic computer programs, such as those found in Microsoft Office, Internet, E-mail, and Information Literacy.

The Integration Academy is designed for participants who are at least somewhat comfortable using technology for their own personal proficiency and now want to take their skills to the next level. Participants will also sharpen their Information Literacy skills. Over the five days of the academy, participants will build a standards-based curricular unit with technology-enhanced learning experiences that will challenge and motivate their students.

This symposium will focus on the needs of learners in the 21st century with hands-on presentations and workshops. In the exhibit area, partners will feature innovative instructional technology tools and services. Attendees will include teachers, site and district administrators, and other education technology leaders from Los Angeles and other counties.

Registration is $110 - Includes breakfast, lunch and parking.