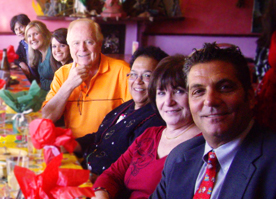 Staff
We operate with a small staff of dedicated individuals who care deeply for our mission and have the qualifications to keep our programs running smoothly. In that way we ensure that most of our resources are focused on important contributions to Los Angeles schools.
Nikkolette Hunter, Assistant to the President
Board of Directors
To advise and enlighten, we depend on our board of directors, a body made up of former TRF presidents, leading Los Angeles businessmen, and Mr. Riordan's civic-minded daughters.
Carl W McKinzie

Jeffrey Glassman

Nike Irvin

William Ouchi

Mary Elizabeth Riordan

Kathleen A Riordan

Patricia Riordan Torrey